Our services
Property Cleanout Michigan LLC proudly services all of Michigan and select nearby areas with dependable, thorough and cost-effective cleanout services.
Reliable, responsive and flexible
Free on-site estimates for almost every job, and no-surprises pricing means you know your cost upfront. We collect our fees when the job is complete, and accept Visa, Mastercard, American Express and Discover.
We won't keep you waiting, either. Depending on size and complexity, we're able to schedule most jobs for within one week of the estimate.
No job is too large or small. Whether you just need a tool shed emptied, or you're cleaning out and refurbishing an entire large property, we can help.
Thorough, dependable and environmentally conscious
With standard cleanouts, we remove all debris, trash, furniture, electronics, etc., and recycle all eligible items.
For larger jobs, you will need to provide the recommended number of dumpsters.
For smaller jobs, we use our own equipment to haul waste and debris to the landfill and recyclable or salable items to their appropriate destinations. We leave the entire area broom-swept.
Property Cleanout Michigan LLC is fully insured, for your peace of mind.
Learn more about each of our services, then call or email us today.
Turnkey solutions: Cleaning out, restoring and/or selling  can be complicated and stressful. Let us handle everything – we can even help you sell your property. Learn more.
Call or email today for a free quote.
Property Cleanout Michigan proudly serves the state of Michigan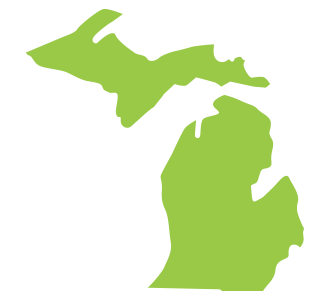 Alpena, Ann Arbor, Baldwin, Bay City, Bear Lake, Benzonia, Beulah, Big Rapids, Boon, Buckley, Cadillac, Cedar, Charlevoix, Cheboygan, Dearborn, Detroit, Elberta, Escanaba, Flint, Frankfort, Gaylord, Grand Haven, Grand Rapids, Grawn, Grayling, Harbor Springs, Holland, Honor, Houghton, Interlochen, Iron Mountain, Jackson, Kalamazoo, Kalkaska, Kingsley, Lake Ann, Lake Leelanau, Lansing, Leland,  Ludington, Mackinaw City, Manistee, Manton, Maple City, Marquette, Menominee, Mesick, Midland, Mt. Pleasant, Muskegon, Newberry, Northport-Omena, Petoskey, Portage, Reed City, Saginaw, Sault Sainte Marie, St. Ignace, Suttons Bay, Torch Lake, Traverse City, West Branch - and more